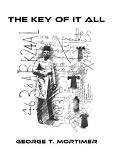 I've decided to make freely available my study of the cipher in Liber AL (chapter II, verse 76). This means that paperback copies of The Key Of It All will no longer be available to purchase.
My other book The Probationer's Handbook is still available priced £8.88 and is now registered under the ISBN 978-1-4092-4716-6 which means that it should soon be available to purchase on Amazon and other online major book retailers (as well as directly from the publisher Lulu).
I've made some minor changes to The Key Of It All recently, and the new ebook now includes some recent findings within its appendix. I'm also interested in creating a piece of software that can calculate various words and phrases on all three keys explained within the book, so if anyone more fluent in programming than myself can help me out in developing this calculator then please get in contact. I've set up a thread on the Media Underground forum for anyone wishing to discuss this issue.
Please feel free to download the new ebook and distribute it to whoever you think might find it of interest. (Media Underground ebook).