This from Starfire Publishing…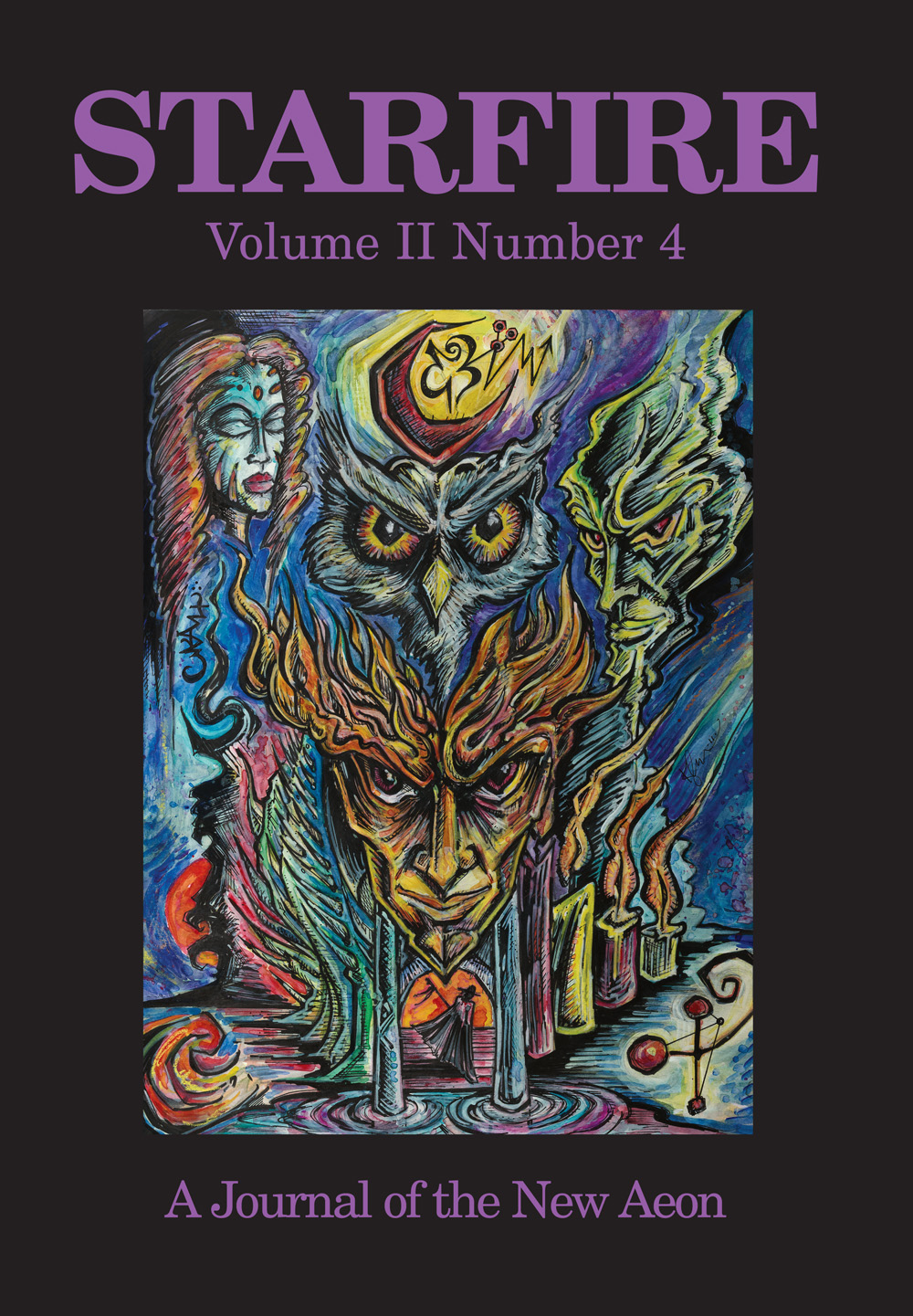 There will be a launch party to celebrate the publication of Starfire Volume 2 Number 4 at Treadwells Bookshop, 33 Store Street, London WC1E 7BS on Saturday 21st January from 7.30pm onwards. All are welcome, but please let Treadwells know beforehand that you will be attending — telephone them on 020 7419 8507 or email them at info@treadwells-london.com Starfire Volume 2 Number 4 is a substantial, riveting, and enlightening publication, 304 pages long and printed on Arctic Volume, a good quality coated paper. The front cover design shown here features a glorious image by Kyle Fite. As Thelemic in focus as ever, the issue has a sparkling variety of content, reflecting the richness and diversity of Thelema. Included are thirteen great articles and essays, two fascinating short stories, four arresting pieces of artwork, and a substantial section of book reviews. The contents of this issue include:
Scintillations in Mauve: An Introduction to the Work of Kenneth Grant by Michael Staley — a preliminary survey of some key elements in the substantial body of mystical and magical work which Kenneth bequeathed us for further development;
Images of the Mystery by Gary Dickinson — a consideration of the origins and implications of Crowley's drawing 'The Way', better known simply as LAM;
The Ophidian Sabbat by Daniel Schulke — some considerations of the body of lore and sorcerous praxis which comprise the Sabbatic path;
Sermon from a Haunted Cellar by Richard Gavin — an essay on some of the implications of working within the Typhonian Tradition;
The Unity of Toltec and Thelema by Eric N. Peterson — a consideration of the common ground between the Toltec tradition and Thelema;
On Toltec Art by Koyote the Blind — an essay by a Toltec adept on the significance of art in the Toltec tradition;
Shades of Grey by Richard Gavin — a short story woven around Lam;
Maranatha and Beyond by Stephen Dziklewicz — a sequel to the author's essay on Maranatha in the previous issue of Starfire;
From Aiwass to Lam by Richard Ward — an essay on Crowley, praeterhuman contact, and the magical path of the Divine Fool;
Echoes of Silence by Alistair Coombs — an analysis of the background to Blavatsky's The Voice of the Silence and Crowley's Commentary on the book which he considered a masterpiece;
Grid Sigil Magick by Robert Podgurski — considerations concerning the ramifications of a sigil which was revealed several years ago to the author;
The Emergence of Lam by Michael Staley — some considerations of Lam from its emergence in the Amalantrah Working and beyond;
Sleeping Buddha by Hector Djoun — a short story about a Buddhist academic and his awakening following an encounter with a Pythoness;
Two Fragments on Ataturk by Ithell Colquhoun — reminiscences on the genesis and subsequent life of Crowley's son;
Book Reviews by various contributors. Reviews include Brother Curwen, Brother Crowley by Henrik Bogdan; Perdurabo by Richard Kaczynski; Aleister Crowley and the Aeon of Horus by Paul Weston; A Cockney Visionary by Jerusalem Press; Vudu Cartography by Michael Bertiaux; A Gathering of Masks by Robert Fitzgerald; Voudon Gnosis by David Beth; Austin Osman Spare: The Life and Legend of London's Lost Artist by Phil Baker; and more.
Further details of Starfire Volume 2 Number 4 can be found here. Michael Staley, Starfire Publishing Ltd. 12th January 2012. Website http://www.starfirepublishing.co.uk Email admin@starfirepublishing.co.uk
Related Images: