100th Anniversary Compilation of an exclusive and unreleased tracks dedicated to Aiwass & New Aeon & The Book Of The Law technically called Liber AL vel Legis sub figura CCXX as delivered by XCIII = 418 to DCLXVI that was dictated in Cairo on April 8th-10th in the year 1904.
The first thing that strikes you about "AL – 100th Anniversary" from the Czech HORUS CyclicDaemon is the sheer quality of the production. We're talking here about a 2 CD compilation of broadly "Industrial" and Ambient musical sketches inspired by Liber AL.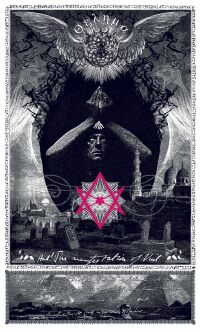 This limited edition album – only 418 hand-numbered copies are being published – arrives in an attractive and sturdy A5 box, numbered on the back. Inside is a splendid A3 poster, by itself worth the purchase price. A beautifully produced 8-page A5 booklet provides information on the tracks and a short introduction by the highly respected Thelemite, Carl Abrahamsson. The first CD ("Songs") includes thirteen widely varied tracks. None of them are uninteresting, but particular highpoints include the following. First up is Hexentanz with "Oh, Blessed Beast". A rousing classical introduction gives way to an Egyptian-inspired riff and tabla drums lie beneath spoken extracts from Liber AL. Repetitions of the riff and classical theme make this thrilling stuff: wonderful! Next is Musterion with "Baphomet: The Magus, The Fool (FO-Hi), The Voyager". Gloomy sound effects – footsteps, wind, breaking glass – give way to distant pure singing. A choir and, if I'm not mistaken, a madrigal develop a fragile folk piece, before the reintroduction of sound effects: ship's bells, clanging chains and, far away, Crowley chanting in Enochian. Duparc's "A Rebours" is next. Soft and beautiful. A peaceful reverie whose vocals by Isabella Piombo are simple gorgeous. "Walpurgis-Night" by While Angels Watch is my favourite of the collection. Superb reading of a Crowley poem against a swirling, sinister ambient backdrop. "Psychic Scent" by Cotton Ferox & Genesis P-Orridge takes us back to Psychic TV at its best – "engorged seduction", "imprinted functions", "sensate state". Genesis' lyrics don't disappoint. The second CD ("Ambient/Electronix/Experimental") is equally varied and impressive. "Secret Name" by Silence & Strength, recorded in Israel, is especially interesting, with its inclusion of passages from The Book Of Lies and Liber AL. "I Was" by 3LCF [Trilucifer] is wonderfully dark and chilling, as is "Death Is Forbidden" by Ah Cama-Sotz, with its many layers swooping over Crowley samples. "The Beauty Of The Beast" by Chaos As Shelter includes "washing machine cylinder" amongst the instruments performed. The rather delightful "Donkey Fell Eyesleep" by Ossaserpia rounds this CD off in an upbeat fashion. So, to summarise: an eclectic and entertaining compilation of some very interesting musical pieces. Often haunting, sometimes sparklingly celebratory, this collection never fails to entertain and intrigue. Its production values are extraordinarily high. I recommend it without hesitation, confident that members of LAShTAL.COM will consider its purchase money very well spent.
Retail price: 29 Euro + postage (6 Euro per one item). 36 USD + postage (7 USD overseas per one item).