Rare British Occult Abstract Oil Painting Lady Frieda Harris Tarot Card Artist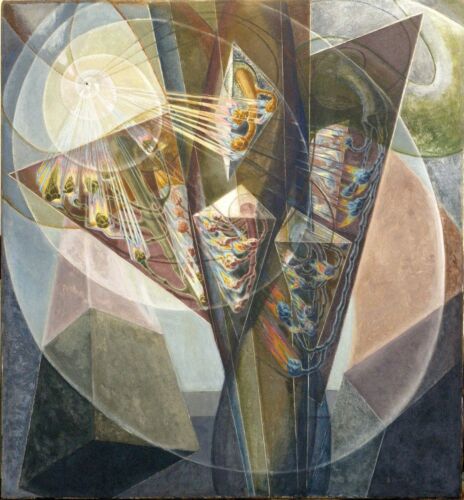 http://www.ebay.com/itm/291348223984
Oil on canvas
42" x 39"

[Marguerite] Frieda Harris (born 1877 London, England; died 11 May 1962 Srinagar, India) was an artist, an occult magician, and, after she met him at age 60, an associate and friend of the author and occultist Aleister Crowley. She is best known for her artistic design of Crowley's Thoth tarot deck and the resulting philosophical input towards its final form.
What a gorgeous, exciting picture.
Looks like it is all in the egg... amazing!
I love abstract painting, but this is not my cup of tea.
The spirals and the figures/shapes bring to my mind the Death card from the Thoth deck. Stunning!
A kaleidoscope of Worlds, formed from one droplet of water, accentuated by the Suns rays. [my interpretation]
Excellent.
Very pretty!  I wonder what it means, and what it might look like under the influence of psychoactive 'storming' agents?
Norma N Joy Conquest