[Closed]

The chamber of nightmares: inside Aleister Crowley's Sicilian abbey
My, but you are an angry man.  I am still pro-Fascist.  Have a nice day!
OK, I'll just be sitting on the floor behind the bar sipping a cocktail and reading a book until you folks are done. 
LOL!  I'm finished, you can't argue with a mad man.
My, but you are an angry man.  I am still pro-Fascist.  Have a nice day!
Don't say I didn't warn you. But you may say that I warned you after the fact of your coming out of the subterranean closet and declaring pro-fascism as your cult.
Now, if you want to know where to find pro-fascist dictatorship in action, go to The Constitution of the OTO (the old one). The OHO is absolutely in charge of everything under the Sub and on other planets, too. He approves or disapproves of every action and every committee.
Since I was, once upon a tyme, the administrator (but not the boss) of an org that was organized under that Constitution, so I get to say these things without worrying about someone saying, "You don't know what you are talking about."
So we have Thelema that was enshrined under the A.'.A.'. banner, and it's curriculum is pretty much plain white. There are no dues. Money cannot be accepted for personal profit in squeaking some rich dork by the portals. There is NO Oath of Obedience, and not even secrecy.as well.
Then the Ordo of the Templi came along and got rubber stamped with the A.'.A.'. curriculum, but revised to lesser stands in order to incorporate Oaths of Secrecy, Oaths of Obedience, Dues an Fees that must be paid in advance (there is No Credit for the Widow's Son), and if you're in long enough, the ultimate Oath of Poverty kicks in as you give everything to the Tong ("fist"). So, under these circumstances, we see an outline for Thelemic Fascism, as you have described in words, but not in any detail.
So, as a harmonic vibration to Ignant's reproductive-function against anybody telling him what to do, I say "Fuck the Tong" and it's guidance from the top down with a stick. I must also warn you, and aby innocent bystanders, to take extreme care in interpreting any Crowley-position on politics, sex, and philosophy, even psychology, because sometimes it's his position (which may change tomorrow) and not a universal principle. 
On the dexter hand, one should take him very seriously when he says, "Don't believe me. Do the work and find out for yourself." And then do the practices in Class D found in the Libers, and achieve your own liberation, free of foreign concepts.
I'll just be sitting on the floor behind the bar sipping a cocktail and reading a book until you folks are done. 
Sorry, I didn't warn the innocent bystanders. Even after the fact. 
LOL!  I'm finished, you can't argue ...
We should not argue about politics or outer reality (or illusion) unless it is related to AC or his associates, delelicts, and spawn. We have already determined for a fact that AC was as ambidextrous with his politics as he was with his sexual endeavors. So no point on either can be held as valid, as there's the opposite in the next volume or letter.
You lit the fire under the pot when you cited Thelemic Fascism. You stirred the pot when you declared yourself a fascist. You spilled the pot when you failed to define how your personal fascism was different from dictatorship or right-wing force. But you mumbled something about how they were different. But you didn't say how. And any ninny knows that fascism and a bossy attitude are the same.
My, but you are an angry man.
You betcha, Comrade.
Hating Fascism and Fascists is The American Way. Nazis just plain get my dander up.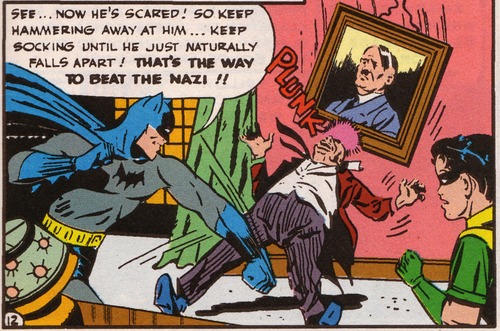 And one more time: your idol AC, aka "Alice", liked it up the ass from Black men, and from Jews. Is this a good example of Aryan manhood?
I have been schooled!  You are ALL correct!  My Fascism was a paper tiger that simply stroked my ego.  However, I am genuinely interested in the history of the occult, and its influence on reactionary politics of the early and middle 20th century.   Well, thank you for your honesty, I appreciate it.
@ignant666 A.C. or Alice liked up the a--by Blacks and Jews.  Is this a good example for a whole theology?  By the way, Superman didn't like Commies either.
Superman didn't like Commies either.
I think you might mean state-capitalist Soviet totalitarians? Actually, Superman did briefly become a Soviet dupe (Red Sun, 2003) in an alternate timeline:
@ignant666 LOL!  Heh, I guess you like comic books too.   That reminds me of when Superman broke Lois Lane's air supply when she went into space. (1965 DC Comics) It was just a tease though,  it turns out he was really untangling her safety line.
So, since i have not said it in a while, because politics have been largely absent of late: fuck Fascism, fuck Fascists, fuck Nazis, and fuck Fascist International Supremo Putin, and fuck his "special operation". And fuck anyone who says
Putin's Russia was hardly The Third Reich, there's no industrial ethnic cleansing and even Trade Unionists were, as far as i know, left alone.   The average Russian has probably never felt so secure economically or otherwise... until this conflict of course.   Ok the odd rabble-rousing PC journalist may have gotten himself body-bagged and you won't see any big-bellied middle -aged men in thongs in a gay-pride march in downtown Moscow but what the fuck is the West's beef with Putin? 
As for Ukraine (a place were their nationalists notoriously cooperated with Hitler's SS in their atrocities)  and is presently no stranger to the Neo Nazi problem (one of whom is a town mayor!) well I reckon if you would have asked anyone where Ukraine was (until now in any decade or century)  they would've answered 'Russia'.  When the fuck was Ukraine never a part of Russia?  1647 or whatever?  It's a Russian-speaking place y'know?  It's Russia.  They want to join the EU and get bailed out by Germany every two years?  We have our own pain in the ass separatists here in the UK in Scotland i.e.  the leaders of the Scottish National Party who threaten Her Majesty's Union.     
https://www.lashtal.com/wiki/Aleister_Crowley_Timeline
A unusually ignorant post, even for you, david (welcome back, BTW, was just thinking of you).
Ukrainians don't speak Russian, they speak Ukrainian. Ukraine was formerly part of the Russian Empire (so was Finland, part of Sweden, Poland and all of eastern Europe and the Baltics)- Putin just claimed his right to rule all of the former Empire in his truly deranged speech announcing the Ukrainian invasion.
Ukraine has been a country since the Russian Revolution as a "Soviet Socialist Republic", and fully independent for 31 years. If some morons in the west are bad at geography and think it's in Russia, so what?
There are indeed neo-Nazis in Ukraine, just as there are in the UK, the USA, and every other country. But the president is a Jew, who won an election. The far right did far less well in the last Ukrainian election than in the last UK or US elections. And of course Russia is run by a far-right one-party ethnic nationalist government.
Russia is a neo-Fascist totalitarian dictatorship. There are no "trade unions" in Russia in the western sense- any industrial organizing is rapidly punished with prison. They have financed the global far right for years (Brexit, Le Pen in France, Trump in the US, Bolsonaro in Brazil, etc etc etc). Ethnic cleansing? Look up their previous invasion of Chechnya. They have shut down all non-state media under threat of 15 year sentences for using the words "war" or "invasion".
Russia invaded a neighbor out of nostalgia for past glory, and the deluded idea that they would be welcomed as liberators, and it would be over in a weekend. Instead, due to the incompetence and weakness of the supposedly mighty Russian military, and the heroic resistance of the Ukrainian people, they are bogged down in failure almost 2 weeks in.
Honestly, get a clue before posting imbecilic nonsense that only points out how woefully ignorant you are.
Your ignorance is not necessarily widely shared. The LES of Manhattan is full of Ukrainians, and Ukrainian restaurants and organizations. I used to work at one. My boss was a burly Ukrainian (now dead) with his concentration camp number on his left forearm- "my phone number, for life" as he told Ralph the new fry cook when he asked "What's that crazy tattoo?" So much for your WW II history knowledge. There are Ukrainian neighborhoods in most large US cities, and i am guessing in London too.
@ignant666 I have been to Russia, post Soviet Union in the 1990s.  Despite what some people say, Russia is a beautiful country, and it's people have been hardened by tyranny and foreign aggression since the days of the Mongol tribes, up to Hitler's invasion.  The Ukraine was victimized by Stalin's policies. ( The Russo-Nazi Pact) that gave the Ukraine to Stalin. Most Ukranian Nazi sympathizers were simply nationalists who wanted revenge against Stalin.  This present war reminds of me of Russia's invasion of Finland.  Like the Ukrainians', they put up a ferocious fight, and like today, the Soviet equipment and leadership were sib-par.  However, like Finland, the Ukrainians' will be ultimately over whelmed by sheer numbers. 
The Chamber of Nightmares thread is now retreaded into current external events.
I will take a brake behind the bar with Katrice.
@shiva Aleister Crowley and the Ragged Rag-Time Girls visited Russia.  Does that help?
Yes, @tiger , although the official language of Ukraine is Ukrainian, and the majority of Ukrainians speak it, some Ukrainians speak Russian. During the Soviet period, use of Ukrainian was heavily suppressed by the state, which is why not all speak it. Most of the Russian speaking parts of Ukraine have been de facto part of Russia since the last two Russian invasions of Ukraine.
The Russian-speaking minority is Putin's excuse for invading, based on the laughably false claim that they are subject to genocide by the Ukrainian-speaking majority. This is of course the exact same excuse Hitler used to begin WW II, that he was protecting the German-speaking minority in the Sudetenland by invading (which turned into invading all of Czechoslovakia, and then invading all of Eastern Europe-sound familiar?). Unfortunately for Putin, the Russian-speakers are fighting back against he brutal Russian invasion just as hard as the rest of Ukraine.
The Putin regime may yet win by sheer force of numbers, but they better do it quick- they won't be able to pay or supply soldiers very soon with a collapsing economy. Of course, ordinary Russians may have no idea what is going on, but they will notice something is going on soon.
Anyway, as usual, david has succeeded in derailing the conversation even further OT than it already was. and i suggest either 1) dropping this discussion as out of the scope of this forum, or at least 2) creating a new topic for david to post his ignorant blather in.
 

 

There are indeed neo-Nazis in Ukraine, just as there are in the UK, the USA, and every other country. But the president is a Jew, who won an election. The far right did far less well in the last Ukrainian election than in the last UK or US elections. And of course Russia is run by a far-right one-party ethnic nationalist government.

 
Russian oligarchs funding white  supremacist movement worldwide, maybe show us the evidence because that is on par with the Elders of Sion BS.  Russia is run by "a far-right one-party ethnic nationalist government"?  Racist how? 
https://www.lashtal.com/wiki/Aleister_Crowley_Timeline
Please start a new topic if you think this topic of the virtues of Putin's Russia has something to do with the life and legacy of AC; otherwise, please shut your ignorant piehole.
David is probably just afraid that his country will let in one more than the 50 refugees from Ukraine they'd let in so far (from 1.7 million refugees), and is okay with the fact that a not too small part of his capital is called Londongrad.
While I have not the time to search for evidence (though it won't be too tough), everybody can see the clues: EVERY far-right white supremacist on Social Media applauds Putin; nearly ALL the (so far alleged) Russian bots behind Corona/Soros/NOW conspiracies have gone silent on Social Media once Russians were banned from them (check it, it's funny); Trump endorses Putin; Boris (oh so glad that his party affairs are forgotten) threatens a lot (like a real strong Britain would) but in fact does nothing.
I can't be proud of how my home country handled Russia until now, but of course the only ones against any sanctions or even criticisms right now is the far right.
And all this while they are afraid of communism.
And of course David coming back after a long hiatus to just excuse Putin and Russia says a lot. If I wouldn't know better I would have thought he is from some red-neck bible belt, just judging from his educational deficiency.
And of course I am sorry that I participated in this thread derailment and hope that Katrice and Shiva will welcome me for a drink after that, I am done.
Love=Law
Lutz
Frankly Richard T. Cole's Thelema Revisited is the best I have seen on the Abbe of Thelema at Cefalu   ... @therealrtc...Thanks for that travelogue!
Too bad someone never funded having the roofs secured...
I will take a brake behind the bar with Katrice.
Here, have an Old Fashioned.  I'll make one for Lutz too.
@ignant666 I just read an online publication that you had recommended during one of your more lucid moments in response to my quasi-proto-fascist world view, Pasi's Crowley and the temptation of Politics.  Not bad, but it really offered no new insights into fringe politics and Crowley.  You can glean the thesis of this book by reading any number of books by, or about Crowley.  I am already familiar with J.C.C. Fuller, British officer and pro-Fascist, as well as Crowley's contribution to George S. Viericks' pro WWW I German periodical, The Fatherland.  It all basically backed up my contention that Thelema is inherently a Fascist ideology.  
Related Images: