Two Guardian Articles - With Added Russell Brand
The UK's Guardian newspaper appears to be on a bit of a roll with Crowley references.
First, today's issue includes, in an article about "an 80-strong posse of enthusiasts for the Guardian's Country Diary" who celebrated "the launch of the first collection of contributions exclusively by women":
The book, A Good Year for Blossom, includes the suffragette Helena Swanwick, sister of the painter Walter Sickert, Virginia Woolf's Greek tutor Janet Case, and Ka Cox, Rupert Brooke's mistress and mother of his stillborn child who died after a confrontation with the Satanist Aleister Crowley, whose activities were affecting wildlife near her home in Cornwall.
Elsewhere in the same issue, comedian Russell Brand demonstrates his zeitgeist credentials with a reference:
And what kind of pervy Aleister Crowley football matches have to be played behind closed doors? What do they get up to in these clandestine contests? Play in the nude? Worship the devil? It's difficult to imagine them doing anything more embarrassing than the performance they turned out so publicly and brazenly at Manchester City last Saturday.
" A good year for blossom ". " Death of stillborn child". " Wildlife confronted by Satanist".
Both Fielding, Sterne, & Swift MUST be laughing about this together over a pint somewhere near Cornwall....
93
....and did anyone else go "Hmmm.." at the colour illustration on p24 of yesterday's edition, of the late Martin Kippenberger's sculpture of a crucified frog?
93 93/93
Clive
Indeed! What could have been his inspiration for that creative work?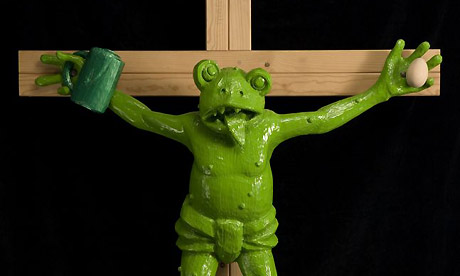 Brand seems to often quote "Do what thou wilt" on his radio 2 show - at least often enough for an irregular listener to have heard it several times
Wonder if Kippenberger is going to make an appearance every month... www.lashtal.com/nuke/PNphpBB2-viewtopic-t-3046.phtml
😉