The man behind Amado Crowley
Amado Crowley was known as Mike to students and friends as his real name was Michael Paul Finbar Walker. His communication address in 2000, was Dr. M P Walker, 16 Charlotte Street, Brighton, BN2 1AG. He died in hospital in Burgundy, France on the morning of 6th February 2010. His body was brought back to England and the funeral took place on the morning of the 19th February 2010 at the Woodland Burial Ground, Bear Road Cemetry in Brighton. Michael Walker was buried next to his mother. Details can be verified by contacing the cemetery.
On the 15th September 1962 the marriage took place between Michael Paul Finbar Walker and Lillian Shu Chao Pang at the Registry Office, Huddersfield. Michael states on the marriage certificate that he was formerly known as Vernon Leslie Walker, is 31 years old, is a University medical research worker and resides at 63, Swan Lane, Lockwood, Huddersfield. His father's name is Leslie Walker. The rank or profession box has no details entered, so he could be retired. Lillian Pang states that she is 35 years old, is a Pathologist BSc MD PhD and resides at 9, Chatsworth Road, London NW2. Her father's name is Chi Ta Pang, a medical practitioner. Several of her works can be downloaded from the internet. As of 2012, she is still listed in the London telephone directory.
On the 13th February 1931, Vernon Leslie Walker was born at the Huddersfield Municipal Maternity Home. His mother was Edna Walker (nee Steele) and his father was Leslie Walker a Railway Platelayer. The address given is 7, Bridge Street, Lockwood, Huddersfield.
On the 4th October 1930 the marriage took place in the parish church, Lockwood, Huddersfield between Leslie Walker aged 25, a Platelayer of 19, Lower Well house, Golcar, Huddersfield and Edna Steele aged 21, of 7 Bridges Street, Huddersfield. Leslie's father is John Walker, a mason's labourer and Edna's father is George Steele, a miner.
On the 3rd November 1935, Edna Walker gave birth to a daughter named Rita Ann. The father was Leslie Walker, a platelayer and the address given is 16, Back Bradford Road, Huddersfield. Rita Ann died in the December quarter of 1936.
The claim made by Amado in his writings is that he is the biological son of Aleister Crowley. In his book The Secrets of Aleister Crowley, he explains that Aleister Crowley went to great lengths in order to have sexual relations with Amado's mother (Stella in the story) and is even supposed to have planned not only the exact location where the conception would occur but even the 'polarity' (orientation?) of the bed. The conception occurred in a room in a chateau near to Boulogne during the first night of a 'naughty weekend' that had been planned and paid for by Len Standish; the boyfriend of Stella. A taxi came for Stella and drove her on  a short journey through the night to a champagne party in a chateau. While she was in the clutches of the 'Great Beast', Len was befriended at a bar by an Englishman who explained that he had just had some luck at a casino and was going to 'paint the town red'. He invited Len to join him and even started Len off with a modest stake and in the space of five hours, Len had won four hundred pounds. When Stella awoke in the modest hotel in Boulogne, she wondered if it had all been a dream. She realised that she would have to make it up to her husband Len and salvage their naughty weekend.
Len was shocked when Stella told him that she was pregnant just a few weeks after the weekend in France. They were married two months later in a registry office. Len couldn't work out how he was responsible; but knew that Stella hadn't been out with another man. This implies that Len didn't have sex with his girlfriend/fiancée during weekend away. This must have made him annoyed as he had spent a small fortune on the event and didn't even get to enjoy a naughty weekend.
The pair moved into a small rented house and Andrew Standish (Amado) was born on the 26th January 1930. A huge toy rabbit was delivered for the new baby (from Aleister) and Stella explained that it was from the baby's grandad Wilfred who was a coalminer living in Kent. Stella's mother quickly corrected her, stating that his grandad's name was George. Everyone thought the baby looked more like his mother than his father.
There are several problems with this story. Aleister tells Stella at the start of the ferry journey to Boulogne that a car will arrive at the hotel at 9'oclock that same night. The journey across the channel takes about two hours so in order for Stella and Len to make the crossing, disembark, collect their luggage, get to the hotel, check in and sort themselves out, they must have left Folkestone no later than 5 pm. This means that they would have had to leave their home in Yorkshire about 9.30 am. as the train journey would have taken at least five and a half hours in 1929. The working day was until at least 6 pm. and they would both have had to somehow arrange to have the Friday and the Saturday off work as people worked a six-day week in 1929 with the lucky ones working a five and a half day week. They would have had to forgo their wages; and in 1929 every single farthing counted! So it is highly unlikely that Len and Stella could have had a naughty weekend in Boulogne as they each would have to have had two days off work in order to accomplish the weekend away and lose two days pay.
Why would a total stranger befriend Len and give him a stake? Are we to suppose that Aleister arranged this as well? Four hundred pounds was definitely a small fortune, it was the equivalent three and a half year's wages for Len! Len, Stella and family didn't move into better accommodation and there is no mention of how the money was spent.
The conservative estimate of the costs of a weekend away in 1929 is £25 12s (twenty five pounds and twelve shillings).
A railway worker's wage was around £3 3s per working week, so this would use up about eight weeks worth of pay.
Putting aside 10 shillings per month it would take over five years.
Putting away £1 per month would take over two years.
Putting away £3 per month would take just over eight months.
Len would not be able to go on the spur of the moment; the weekend would take a lot of time to plan. Len was working in a very lowly job. He wouldn't have much education as he probably left school when 14 years old. Railway workers had to work a 12 hour day (6am. to 6pm.) and for 6 days a week.
There are other problems/inconsistencies. On pages 141 - 143 of The Riddles of Aleister Crowley, Amado explains how he had an operation to correct an undescended testicle whilst doing his national service. He goes on to say that the man (Bernie Tocker)in the bed next to him is also in for the same operation, shares the same birthday, was also both born at four o'clock in the afternoon and that Bernie's late father was a magician; albeit a stage magician. Yet on page 21 Aleister is claimed to have said to Amado that the undescended testicle was put right he was five years old. Which is the truth? On page 33 of The Secrets of Aleister Crowley, Amado states that he was born on the 26th January 1930. Which is correct, 26th January or 13th February?.
Michael Walker (formerly Vernon Leslie) was born on Friday 13th February 1931. On page 237 of The History of British Magick After Crowley, by Dave Evans, the last day that Aleister Crowley was in France was (Tuesday) 16th Aril 1929. If Aleister Crowley did meet up with Michael Walker's mother it would have had to have been Friday 12th April as the alleged 'naughty weekend' would have been Saturday 13th and Sunday 14th April. If the pregnancy was a normal 38 weeks duration, the birth would have occurred around the 3rd January 1930 (Friday) and not over three weeks later on the 26th January 1930 (Sunday) as stated in the book The Secrets of Aleister Crowley. As already shown above, Vernon Leslie Walker was born on Friday 13th February 1931, so the pregnancy would have lasted over 21 months! He wasn't the biological son of Aleister Crowley.
Birth and Marriage records can be obtained from the General Register Office, PO Box 2, Southport, Merseyside, PR8 2JD, United Kingdom.
Marriage between Michael Paul Finbar Walker and Lillian Shu Chao Pang: Year 1962. Quarter: SEP.  Volume: 0213. Page:155S.
Birth of Vernon Leslie Walker: Year 1931. Quarter: MAR.  Volume: 09a. Page: 418.
Marriage of Leslie Walker and Edna Steele: Year 1930. Quarter: DEC.  Volume: 09a. Page 619.
Birth of Rita Ann Walker: Year 1935. Quarter DEC. Volume: 9B.  Page: 376.
The death certificate can be obtained by contacting the French Embassy in London.
Amado was not the son of Aleister Crowley, he was a self-proclaimed 'Master' who set up several 'Occult Communes' between 1962 and 2003. Amado had always wanted to have a rural occult commune that would be the basis of an occult 'University'. The grand plan was to have several communes that were under the auspices of the one in Derbyshire. In 2003 Amado announced that he was founding a new occult order and members who signed up could expect formal training in the theory and practice of magic as well as a manual of rituals. This was quickly followed by the launch of the occult 'University'. Residential study courses became available for students and prospective students, but in 2008, the whole project collapsed when the bulk of students decide to leave (a pattern that had been played out in previous communes). The occult order was never mentioned again and both the training and the manual never materialised. In 2009 Amado decided to go and live in the one remaining commune in Burgundy, France.
In 1973 Amado produced  'The Magus'. A privately published booklet that explained Aleister Crowley's reputation, beliefs and teachings. A first edition copy is currently for sale on Amazon for £135 and is being sold by David Ford Books. He also has a copy of volume 7 of Liber Lucis and this is also for sale on Amazon for £95. In 1975 Amado produced Liber Alba, a list of questions asked by would be occult students. He claimed that he wasn't allowed to advertise, yet he had a long-running advert in The Fellowship of the Sphinx, an online contacts service. He wasn't 'The Chalice 777', he didn't usher in the 'Aeon of Horus', and he didn't publish the 'Book of Desolation'; which was a fabrication of his own wild imagination. He would have probably fared better if he had told the truth about himself.
Wonderfully informative post. Thanks for placing it here.
Thanks - yes, some great and very thorough research there. He certainly seems more interested in fabricating someone else's will, rather than his own. But it never-the-less confirms my belief that ''Amedo'' - together with all of his books - can be safely ignored.
How exactly did anyone get fooled by this guy to begin with?
Some people actually got fooled?
"A SUCKER IS BORN EVERY MINUTE."
- Liber 333, Chapter 88
"Los" wrote:
How exactly did anyone get fooled by this guy to begin with?
Having been around in the early 1970s when Amado popped up, I don't think that anyone was fooled.
Amado claimed to be the fruit of Crowley's loins, doubtless one of a fair few. More to the point, he also claimed to be Crowley's appointed heir, prepared by his "father" to be his successor. Later, he declared himself to be the Messiah of the Aeon of Horus; Crowley had been akin to John the Baptist, sent to prepare the way for Amado.
Having met Amado a couple of times in the early 1970s, exchanged a few letters with him and spoke to him on the phone once, I thought he was an interesting chap, but I never considered him A.C.'s sprog, let alone entertained the more grandiose claims. As I remember, my sceptical view was widespread.
So no mystery there, Los.
"MichaelStaley" wrote:
I don't think that anyone was fooled.
Well, this Amado character apparently had "students," and they probably did accept his claims. Someone was attending his "Occult University" and "Communes" and whatnot. I recall reading something by Dave Evans in which he explained that Amado sent students to attend Evans' academic papers and report back to Amado what was being said about him.
Point being, there appear to be some people who were fooled by what is a totally transparent bullshit story. I'm just amazed that anybody could be duped by a story so lame.
I'm just amazed that anybody could be duped by a story so lame.
There are lots of examples where the story has been lame, but what was delivered was good. In Amado's case the books were ordinary and made some quite large claims. All in all rather vacuous....
i would think scanning a brief survey of human history would suffice to convince the reader that mankind's gullibility is the rule rather than the exception. 
"Los" wrote:
Well, this Amado character apparently had "students," and they probably did accept his claims. Someone was attending his "Occult University" and "Communes" and whatnot. I recall reading something by Dave Evans in which he explained that Amado sent students to attend Evans' academic papers and report back to Amado what was being said about him.
Point being, there appear to be some people who were fooled by what is a totally transparent bullshit story. I'm just amazed that anybody could be duped by a story so lame.
I met a few of Amado's students at one of his public meetings. They didn't strike me as weak-minded dupes. I doubt that any of them became his students simply because he alleged that he was Crowley's child. They would have come to a judgement of Amado as a man and as a teacher, based on their impressions of him and what he had to say. The fact is that, in the flesh, Amado had charisma, even if that did not carry over into his written works.
I never read any of Amado's books, so cannot agree or disagree with Michael Clarke's remarks. I did though read Amado's magazine Liber Lucis when it appeared in the early 1970s. Much of it I didn't care for particularly, but some of it I found useful at the time.
Point being, I doubt that any of Amado's students were his students because of his story about who his father was, so your amazement is spawned by dubious assumptions. Still, good sound-bites, eh?
Would it be fair to guess that HE believed he was Crowley's son, and that this is partly what gave him the confidence and charisma that led him to have some followers?
The story was obviously important to him, so either he was a simple con artist or a genuinely self-deluded crank. At least we can grant the latter a little sympathy.
"belmurru" wrote:
Would it be fair to guess that HE believed he was Crowley's son, and that this is partly what gave him the confidence and charisma that led him to have some followers?
That's a possibility, certainly. Whilst in India in the early 1980s I went to visit the English guru Dadaji, who had met Crowley at some stage and who had emigrated to India in the early 1950s. Dadaji mentioned to me that he had received a letter from Amado asking if he (Dadaji) could remember being one of several people at a meeting where Crowley had introduced the young Amado as his heir. Dadaji hadn't been able to recall such a meeting during his acquaintance with Crowley, so was unable to help. I believe that Amado was writing to various people at the time with a connection to Crowley. It's possible that he was doing this in order to consolidate a hoax; on the other hand, perhaps he did believe it and was searching for some sort of verification.
During the first of my two meetings with Amado in the early 1970s, he asked me whether I thought that he looked like "my father". When after consideration and in all honesty I replied "no", he didn't seem bothered, perplexed or insulted in any way; we just continued our conversations.
From the little contact I had with him, I rather liked the man, irrespective of the fact that I did not accept his claims.
"MichaelStaley" wrote:
I doubt that any of Amado's students were his students because of his story about who his father was
It is your contention, then, that the majority of Amado's students did not accept one of his most important claims?
To put it another way, it is your contention that the majority of Amado's students thought that their teacher was mistaken on a point that he himself considered fundamental to his identity?
"Los" wrote:
It is your contention, then, that the majority of Amado's students did not accept one of his most important claims?
Los, 93!
I don't know if you have read Amado's work. I did (somewhat reluctantly and more out of "historical" interest), and although there was never any doubt to me that this man wasn't Crowley's son, it was more or less a"general" Western system of occultism he taught, the knowledge of which he incidentally claimed to have learned and inherited from his "father" Crowley. Maybe he still was quite a good teacher. Isn't that totally unimportant anyway?
Or to put it another was: Is it YOUR contention, then, that the majority of Crowley's students do (should) not accept one of his most important claims? I mean, Crowley's stories are rather wild too, aren't they?
Love=Law
Lutz
Good point the_real_simon_iff. Even though he may have been a fraud, then may have been one or two good things in his teaching that he borrowed from elsewhere. And it may well have been those that he students were initially attracted to.
In order not to change the subject, my guess would be that the majority of Mike Walker's students, if they knew of his claim to be AC's son, believed it, at least at the beginning. I would further suppose that to those for whom this was important, it was a major part of their acceptance that there was some authority to his system. In other words, for those of his students who knew anything about Aleister Crowley, Mike Walker's claim to be his son imparted an additional authority to his teachings.
I imagine those who remained his friends perhaps gave up that belief, and just liked the man. Perhaps former students also stopped believing the Crowley's son story as unnecessary, when and if the system began working for them.
I have no idea of the number of his adherents or how much the earliest ones knew about Crowley, so I have no way of knowing if my guess is correct. But to me, it just seems that Walker would not have promoted this story about himself unless it added allure, which means that some people believed it. It had currency and some people must have been attracted to it.
So, to get back to Crowley's unverifiable claims, I do in fact think that the majority of people who become students/followers of Crowley, DO believe, or at least tacitly accept the plausibility, of his claims about the Book of the Law being dictated by a praeterhuman intelligence, the Secret Chiefs, the Invisible College, previous lives, etc. I know I did, and I can't say I know anyone who calls himself a Thelemite who didn't. In other words, I don't know anyone who decided to take up the practices of the AA or to become a Thelemic magician with the attitude that "I don't believe a word of it, I'll just test it to see if it works." There has to be some level of wonder, of mystery, of "maybe it's really TRUE!", to be able to stick with the programme through the tough times when nothing seems to be happening.
I think there's a lot in what you say, belmurru. However, I remember reading the first issue of Liber Lucis in the early 1970s, and having the impression that here was someone with a body of work upon which they had spent some time. It's my opinion that prior to Liber Lucis Amado had been working for several years developing his work, attracting a core of students, etc. When I met some of them in 1973, I had the impression of a tight-knit group some of whom had been his students for several years.
I don't think that these people were with him because they thought he was Aleister Crowley's son, but because they thought that his work was interesting and that he could help them progress in the direction in which they wanted to progress. In fact, there aren't many people who would "follow" someone because that person said that he was Crowley's son. On the contrary, they would be more interested in assessing the competence of that person to offer them guidance, which they would do by observing him, listening to what he had to say, generally assessing him as a person and as a potential teacher.
In my own case, when Amado first came to prominence, I was agnostic about his claims to paternity, not having the information to know one way or the other. Well aware of the controversy that his claims aroused at the time, I tended towards scepticism, but wasn't particularly bothered either way. The first time I met him, I thought him an impressive character; there was no resembance to Crowley that I could see. When meeting Amado for the second time, I was making plans to live on a kibbutz in Israel, and explained to him why I thought that necessary. He advised me not to go, but to join his commune; this advice I considered, but decided against, moving to the kibbutz in early 1974, but continuing to practise some of the exercises from Liber Lucis. I did write again from Israel, but Amado replied quite reasonably that, having rejected his advice, there was little point in further contact.
So yes, the claims about paternity would have added to the allure for some, but would not have been a decisive factor.
"the_real_simon_iff" wrote:
Is it YOUR contention, then, that the majority of Crowley's students do (should) not accept one of his most important claims? I mean, Crowley's stories are rather wild too, aren't they?
My answer is similar to belmurru's. I think that the vast majority of people who consider themselves to be Crowley's "students" (both back in the day and today) or who "practice his system" at the very least implicitly think it's possible or likely for these claims to be true and, in what I think are the majority of cases, really do accept his claims at more or less face value.
But a significant difference between Crowley and Mike Walker is that Crowley's claims are of the *unfalsifiable, can't-ever-really-totally-prove-them-false* variety (or, at least, we can't prove them false with what little evidence we have). Walker's claims are of the demonstrably false variety, to anyone who cared to look. Since the OP has demonstrated that a person *can* easily dispute Walker's claims simply by doing a little legwork, I was expressing surprise that anyone was taken in by these claims.
In response, Michael was claiming that pretty much none of his students accepted Walker's claims, which I would also find surprising.
"Los" wrote:
In response, Michael was claiming that pretty much none of his students accepted Walker's claims, which I would also find surprising.
I'm sorry not to have made myself clear to you, Los.
Your first post in this thread seemed to imply that anybody who was a student of Amado was there because they believed that he was Aleister Crowley's son, and were therefore ipso facto taken in by him. My point, developed over several posts, was that a potential student asseses a potential teacher in terms of what he or she thinks the teacher has to give that might help them, rather than who that teacher says was their father.
This is hardly the same as claiming that "pretty much none of his students accepted Walker's claims".
"MichaelStaley" wrote:
Your first post in this thread seemed to imply that anybody who was a student of Amado was there because they believed that he was Aleister Crowley's son, and were therefore ipso facto taken in by him.
I thought I was pretty clear when I clarified, "Well, this Amado character apparently had 'students,' and they probably did accept his claims." Emphasis added.
At no point did I say -- or even imply -- that his students decided to become his students because of his claims. I merely commented on the probability of his students accepting said claims. I still think it's very likely that his students accepted his claims, in the same way that I think most students of Crowley accept Crowley's claims about what happened during the Cairo Working.
Interesting topics AND people arguing?!? LAShTAL returns to form!
I concede, Los, that I misapprehended your assumption.
Wonderful work on this, Mal. Just one post here so far - but what a post!
Yes, an impressive amount of geneological information.
Amado (1931-2010) setting up several 'Occult Communes' between 1962 and 2003, and in 2009 going to live in the one remaining commune in Burgundy, France, resembles AC (1875-1947), as Aleister Crowley set up his own commune in Italy. But also as Aleister Crowley at the end of his life in 1946, wanted to found a new Thelemic commune in the south of England, closer to London than Cornwall, maybe by buying the house where he lived his last years, and to eventually transfer this commune abroad to some warmer climate in Europe. Later on in 1946, Aleister Crowley suggested setting up such a commune in "a country house with a farm attached, within, say, forty miles of London." Aleister Crowley thought of "The Green Lion" as a suitable name of this commune, "because in alchemy the stage succeeding "The BlackCrow's Skull" i so called." 
Source: Page 23, 24, 25, 36 and 37 in the 1958 edition of The Magic of Aleister Crowley, by John Symonds.
Amado was consistent in his claims that he was Aleister's son. The dates in the book are bogus which is to say they can't really be used to prove anything either way. I think he believed what he was saying. He wasn't crazy. His claiming to Aleister's son might have attracted one or two students but it doesn't seemed to have gained him anything else. When all's said and done, it wasn't a selling point. It may have been he felt he was 'meant' to find some of Aleister's 'left over' students - there are references as such in his books. As someone alluded to here, he didn't seem at all bothered about whether his students believed it or not. He only ever wished for them to be 'truthful'.
He had personal connections with his students who are widely spread and not really organised in any formal sense. He discouraged club forming though students did tend to form small working groups. Due to the demands of his personal approach students were, by necessity, few. And he seems never to have been very popular. But I think it must say something that his students were from very diverse backgrounds. He did run one or two adds and was on the look out for the odd student but he didn't prosletyse or use any coercion.
His books were geared differently to the recordings his students received - which in turn, were entirely different to what was offered at the short-lived university. Form and content progressed at quite a gradient - though I think 'other occultists' might be surprised to see how far they broke out of 'occult shackles'. If one were to lay his first published works of the 70's  alongside his latest there is consistency but considerable development in thought. If anyone were to pick up any sort of thread it would also move on. When does something once held true become no longer useful?
In the same way that he claimed Aleister's canon to be more part of the history of the subject than useful, so too, inevitably, will Amado's work pass the same way - if one believes it useful at all. There are still one or two books of Amado's to be published - one just recently - on demons. There may well be one or two more surprises left in store ... but then maybe not. If one believed he was affective as a guide or mentor ... or a Master ... then it had ultimately very little to do with any legacy - or not - of Aleister's. Some felt it was a nuisance and don't hold any stock with Aleister. They found access to Amado via other avenues.
It's highly likely his students were deluded in various ways. That might be the point. People can be very good at believing themselves to be in a better state than they really are. Amado emphasised the importance of entelechy which was worked by a very thorough knowledge of Thelema (Aleister's was not the first nor the last word on that subject). It was brought into a contemporary contextual light.
In the end, it is irrelevant now whether he was the real Mc Crowley or not. He is dead. Time is limited. No one here can possibly gain anything here from proving or disproving which sperm won the race. "It's a wise man who knows his father". Some students will fade into oblivion some students will go onto good things. Just like students everywhere. Rather than waste time raking over the coals of Amado's grave - a man who doesn't seem to have caused any harm - perhaps we should all be getting on with 'climbing the sacred mountain' as best we can?  😉
we've all thought we were his son at some time. it might be a matter of the planes
"TreeDragon7" wrote:
we've all thought we were his son at some time. it might be a matter of the planes
"We" have, have we?
i wont speak for you. but AC has transmitted and impregnated anyone whom has understood his writings. for themself
"TreeDragon7" wrote:
we've all thought we were his son at some time. it might be a matter of the planes
You always have to tone down the rhetorical volume when using the words "all" or "always" or "never," usually because some schools of psychology maintain that such absolutes indicate, at the very least, a neurotic disorder. And then there's always the possibility that someone will call you on it
That having been said, let me ramble on further and say ...
I know what you mean, for I experienced this phenonemon in my own way, which was perhaps a bit different. Firstly, I had Frater Aquarius, a direct student of AC and inheritor of some obcure talismanic legendermain from the same, in vivo (alive in front of me), giving me instruction. He was my magickal Grandfather (I had a link, his student, as my guru). So I always thought of AC as my Greatgrandfather (GGF).
Then I read that glorious account of Frater Achad's first chapter in The Blue Equinox. I became enthusiastic. I took Achad as my role model, and (at one point) was certain that I was his re-incarnation (magickally speakung, that is, not in the  usual idea of reincarnation).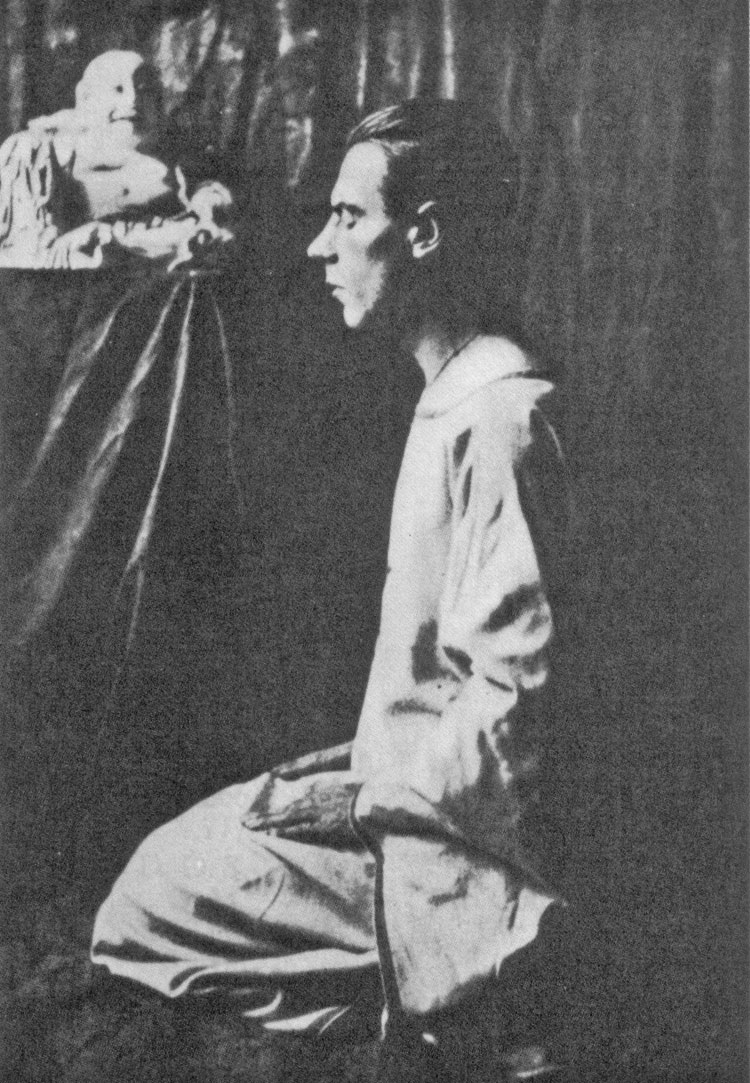 [/align:3q4ltt8l]
Much later, when I learned that chapter 2 involved the fast path to 8=3, and then to the Ipsissimus giving orders to Therion, well, by then I had gained a different perspective and I found the whole deal to be more hilarious than tragic.
[/align:3q4ltt8l]
Charles Stansfeld Jones (1886 - 1950)[/align:3q4ltt8l]
Very impressive research, it must have taken some time to do.
I'm not entirely comfortable with the notion of posting an elderly lady's personal details, but I wont dwell on that.
I was once a student of Amado.
The sort of information provided has been kept hidden by students out of respect for Mike's privacy; since they have now been made known, it seems right to present them in a more neutral context.
My understanding is that he was conceived quite deliberately on the Sacred Festival of the Full Moon of May 1930 (a Monday for those who like such correspondences) as the Moon Child; the Full Moon of Beltane was chosen on account of its magickal significance to the ritual.
His mother had a normal pregnancy and he was born one day late on the 13th of February 1931.
Aleister placed several indications in his diaries and published works in order that this could be confirmed later; Mike never made a big thing of these, and those students who were aware of them were generally disinclined to bother too.
One example is the Author's Note of MoonChild, written during the year when Aleister was finalising arrangements for his actual MoonChild ritual: "[...] Need I add that, as the book itself demonstrates beyond all doubt, all persons and incidents are purely the figment of a disordered imagination? London, 1929"
Another example is the Secret Key to Liber Al II:76 which he gave to Mike.  Mike revealed the solution and that the Book of The Law was a hoax, the 'cipher' means Nothing whatsoever.  "What meaneth this, o prophet? Thou knowest not; nor shalt thou know ever"  also "Nothing is a secret key to this law" etc etc
I wont comment on the speculations about the cost of a trip to France and the amount of Money available to them - there are many possibilities that would be consistent with such a trip.
More significantly, Mike explicitly mentioned in his books that he was aware that Aleister had been banned from France before the time of his conception.  Had he simply wanted to make up the story, he would have chosen a place in England.  He mentioned that Aleister made several secret trips into France after the official restrictions in order to show that he was fully aware of the objections that might come up.  Whatever the facts, Mike certainly didn't 'slip up' accidentally in his story here.
I don't want to enter into a debate about whether or not Mike was Aleister Crowley's son and magical heir or not, both men have died and there is no conclusive proof that I'm aware of to either side of the contention.  All I can say is that whatever his ancestry, he looked to me pretty much like his father, but with his mother's nose.  (And what an impressive nose it was!)
He was human and had flaws, but he was essentially a good man who somehow managed to facilitate spiritual growth in at least some of his students.  To disregard him and his teachings would be to miss out on some really engaging material.  That said, all the strange and mystical things seemed to happen in his personal face to face teaching and these were very very different from any of his published material.
I thought it was fair to present something of a 'Case For Amado' since most of the posts are negative on here.  I'd like to think my contribution is worth something if only because of the fact that I knew him and studied with him.  Incidentally, I resigned from being his student too, but that's another story.
One last thought.  I believe he was who he said he was and I think he was able to transmit the Truth (in a certain manner, to a certain degree, to certain people, under certain contexts) but even if he was a self-consciously acting out a role, then I don't think he deserves quite the vitriol and disregard that he is often given: after all, Aleister himself was no saint.  I don't believe everything he said or taught, and I think in many ways he struggled to separate the role of 'man' from that of 'master', but I think enough of what he said, taught was wise and worthy for him to be given a little respect - even if that respect merely manifests as a neutral refusal to judge.
I hope this post is helpful to any interested parties; I hope the administrators wont mind a post presenting a less negative view of Amado.
Thanks for sharing your view.
Another student (well technically former student given the fact he has passed) chiming in.
Mike's link to Aleister was what first drew me to him only by virtue of his first book. I stayed with him because of him, not because of a connection (or otherwise) to Aleister. Mike was a good teacher, albeit he could be grumpy when teh mood took him. I remember my times with him fondly, still have friends/fellow students and I still adhere to his core teachings. Was I "taken in" and am I "gullible"? Possibly - I do consider myself above average intelligence (University educated) and my job is not what you would typically associate with a Thelemeite/Pagan/Occultist/whatever...and requires a certain "level headedness".
Mike may or may not have been Aleister offspring, but he WAS a capable magician in his own right regardless. Certainly the material he taught was far less Aleister, and Mike did not rehash or even suggest I look at Aleisters books unless i really wanted to. The only one he consistently said was of value was Magick Without Tears. As for his own materials he never pushed or peddled them on me - in fact in comparative terms I own very few of his works preferring to take onboard what he taught me directly
I miss Mike terribly, but life goes on. He was just anotehr finger pointing to the moon for me
I first met Mike in 1968 through a University Psychical Research Society. I came to know him casually over a period of several months, and I attended a couple of meetings which he arranged for people who wanted to take their interest in Occultism further. He was quite aloof, but his personal magnetism, knowledge and self-assurance made quite an impression on a rather gauche but spiritually questing 18 year old. He did not present himself (at least to me) as having any connection with Aleister Crowley. Rather, I gathered that he was a teacher of a Gurdjieff-based system. As this did not interest me, I did not pursue the matter.
In 1971, I read Amado Crowley's letter that was published in the part-work Man, Myth and Magic. I had developed a serious interest in the work of Aleister Crowley and in 1972 I wrote to Amado via his Box Number which I came across in an issue of Fate magazine. We corresponded for a few months and I subsequently met his son and, later that year, Amado himself. I was taken aback when I discovered that he was the man I had already encountered in 1968. It transpired that he had been particularly cautious with me because I had mentioned in a letter my prior meeting with the "Gurdjieff teacher" at University. Mike was always VERY careful to avoid being identified and he wanted to be absolutely certain of my integrity before revealing himself to me.
At that meeting I asked to become his student and was accepted. I remained his student for six years, and formed and led a group of fellow students in the North of England. During that period Mike became keen to establish a magickal "commune" where he could live and work with a selected group of students. To this end, he bought a large house and grounds in the South of England. Mike formally initiated me into his Magickal Order in early 1977 and asked me to join the commune, which I did later that year, as soon as my personal situation permitted. I lived in the commune with Mike, his mother, and five or six of his other students for a year between the summers of 1977 and 1978. While this was a fascinating and extraordinary learning experience on many levels, during my residency I found myself becoming increasingly uncomfortable with certain aspects of Mike's teachings, as well as with the way in which some of the group dynamics were playing out within the commune. As a result, while continuing to admire Mike as a person and teacher, I eventually decided to leave and to discontinue my magickal relationship with him. We parted on friendly terms and I never met Mike again, although we re-established a two-year correspondence between 1984 and 1985. I have had no personal dealings with Mike, or any of his students, since 1985, although I have read most of his later books.
To this day, I cannot decide whether Mike was Aleister Crowley's son. To me, he did physically resemble AC. Amado's teachings certainly reflected the "spirit" of Thelema (discovering one's True Will or spiritual purpose) but these teachings were presented with a more human, social, psychological and modern emphasis, stripped of what Mike considered to be outmoded, alien and exotic trappings. Potential students seeking wonders, or expecting elaborate rituals, were promptly disillusioned or dismissed, while the learning process for those who stuck the course could seem very slow and unstructured. Mike's relationship with his students was essentially that of therapist, mentor, or spiritual director, although (on the inner planes) he also saw himself as magickally bound to and responsible for their spiritual development. For a time, he considered designating his work as "sociotherapy". Certainly most of the real learning was achieved through students being encouraged to confront their own interpersonal and psychological blocks or defenses. In that sense, Mike's method of teaching was, indeed, quite Gurdjieffian.
I once asked Mike why he had decided to announce himself as AC's son. Mike certainly had sufficient charisma, knowledge and ability to establish himself as an innovative occult teacher in his own right, without the need to claim any kind of magickal succession. I actually thought he would have fared much better without bearing the millstone of AC's legacy. His answer to me was immediate and straightforward: "Because it's true". Also he claimed he had a sworn responsibility to make himself known to AC's surviving followers who may have been waiting for a successor to appear. This may explain the efforts he made to contact those who had known AC. It was as much to give them the opportunity to recognise and accept him as AC's rightful heir, as it was to seek confirmation for himself. I do believe he genuinely thought he was AC's son and, if he didn't, he was extraordinarily foolish to maintain the claim.
Many critics have pointed out the inaccuracies and inconsistencies in many of the details of Amado's early life, particularly his seemingly fanciful encounters with AC. While some of these might be put down to faulty recollection, I have little doubt that many were intentional red herrings or playful diversions. As mentioned, Mike did not want his everyday identity to be revealed and he deliberately tested and misled those who would seek him out with the aim of exposing or damaging him. The accounts in his books have several such intentional errors, while often retaining an element of truth that might be recognised or decoded by those "in the know". For example, the name he gives for the man considered as his father, i.e., "Standish", is clearly a play on words for his actual name of Walker.
Mike was a complex, enigmatic, creative and multi-talented man who is NOT best understood or appreciated through his public writings. The real teaching and learning took place in the personal relationship between Mike and each individual student, much of which was carried out through correspondence, supplemented by regular face-to-face meetings. For this reason, many of his published writings take the form of barely disguised invitations to engage in this interpersonal work. I do quite like the seven volumes of Liber Lucis, but I find little of real value in most of his later publically available writings, although they are fascinating in their own way. Incidentally, Mike also wrote two or three Occult novels, somewhat in the style of Dennis Wheatley, which I read in manuscript back in the day, and rather enjoyed, but which, I believe, remain unpublished. I also admired his distinctive art work, including the 777 Tarot, and especially his rather beautiful and powerful needlepoint tapestries.
Mike was deeply disappointed with AC's followers. I suspect that he was also disappointed with many of his own students, including myself, as well as with the way his magickal career as Master Amado progressed. During my time with him, many of his students were themselves disappointed, or became disillusioned, or found the work too demanding, or not to their taste - or perhaps they just moved on. In the formative years (the 1970s and early 80s) there was so much energy, enthusiasm and potential but, as far as I can tell, the energy and enthusiasm gradually petered out and the potential was never fully realized.
I retain very fond memories of Mike, though these are coupled with strongly ambivalent feelings towards his work. I fully understand why many people who never met him, and who know him only through his writings, dismiss his claims out of hand and find it easy to deny any value in his teachings. I cannot do that. Perhaps he was indeed part charlatan but, for me, Mike remains the most interesting, impressive and personally influential man I have ever known. May he rest in peace.
Joseph, 93!
many thanks for your enlightening memoir. Very interesting and enjoyable.
All best
Love=Law
Lutz
Yes thank you Joseph, that was most interesting.
🙂
Hamal
I lived at Mike Walker's commune in Farnham, Surrey in 1978-1979. It was a big farmhouse with acreage, but no essential farming was done. Mike kept monkeys. We also had rabbits, geese, goats, and chickens, but no crops. Mike's mother, Edna, lived with us. Other names I remember were John, Giles, and Cathy. I give this information so that anyone from that period who reads this will know that I legitimately knew Mike.
As I left the commune years ago, you can probably surmise that I no longer subscribe to what Mike "taught" or how he lived. He was a fraud and no teacher of the occult or anything else. He was also a misogynist, and the only woman he treated with a modicum of respect was his mother. The rest of us were just there to cook, clean, and feed the animals. Oh, yes, and we worked outside the commune to bring in the money it took to pay the bills.
As far as the whole Aleister Crowley "sex magick" initiation that Mike claimed to have been given when he was 7-8 years old, I know nothing, except that Mike preyed on young men, and had a steady stream of them in his bedroom. Lucky for me, he left me completely alone in that respect, due to his misogyny. This is what Mike was about, not the occult or anything else. Just sex with young men.
As far as some writers have stated, I want to respond to my "gullibility" in believing in Mike at first. I had been an active seeker of all things spiritual for several years. I tried everything that was popular in the early 70s: yoga, meditation, witchcraft, vegetarianism, drugs, free "love," whatever I could try to fill the void I felt in my soul. I was ripe for the plucking when someone I met at an occult bookstore in London turned me on to Mike's self-published books. I wrote to Mike for a year, then joined him at the commune. It took a while of being treated like garbage as a woman before I realized that Mike was a fraud. As Mike was my last hope in the spiritual sense, my despair of ever finding a spiritual place in life became so severe that I was suicidal.
At this time, something miraculous happened. I was standing at the rabbit hutches feeding the rabbits, when something spoke into my brain, "You need a Saviour." I was, like, "Wow, where did that come from?" It certainly had not come from my own brain, as the last thing in the world I wanted to be was a Christian. Mike had even warned me against Christians as being "devious." For the next two weeks, I was in a battle. Should I surrender to the voice that had spoken to me, or should I continue to pursue other forms of spiritualism? I can truly tell you that my soul was being ripped apart during that time. I didn't believe that God existed, how could I surrender to someone who didn't exist?
Finally, I decided to pray that if God existed, I would surrender to Him. I mean, if He didn't exist, no harm done, right? And I found out, beyond any shadow of doubt, that there is a God, and that He cared for me. I became the one thing in all the world that I did not want to be, the one thing that Mike feared. I became a Christian. And for the last 37 years, I have been content.
Dear reader, if Aleister Crowley's website will dare to print my letter, I want to tell you that my soul has found peace. I no longer need the "Mikes" of this world, because I have the Living God on my side. I beg you to consider my testimony, and pray the same prayer that I prayed. If God exists, and I know that He does, He will answer you in ways that will be "joy unspeakable and full of glory."
93 Barbara,
Thanks for your reminisces and glad you found something that works for you.
93 93/93
cheers,
William
Hey Barbara. Aleister Crowley is not your enemy here. Do you seriously think that all of us around the world are going to turn Christian because you had a bad experience? Get out of Christianity! They burnt hundreds of thousands of women alive a couple centuries ago without remorse. AC may have buggered a few Arab boys but that was strictly cultural!
I never said that Aleister Crowley was my enemy. I am merely claiming that the man who claimed to be his son was a fraud. As far as the atrocities done in the name of Christianity, Jesus did not condone them in the Bible, nor do I. Jesus said to "Love your neighbor as yourself." True Christianity is not the problem, the depravity of man is the problem. God has provided a solution to that problem. I am merely sharing my experience here, and encouraging others to truly look for an answer for the depravity of man. I have found an answer. Have you?
Thank you for your post, Barbara. Some of the information you give about Mike/Amado tallies with my own much more limited experience of him, in particular some of the conversation we had when I met him for the first time in the early 1970s.
Dear H,
I am neither shocked nor offended by your Metallica clip. In my day it was Mick Jagger bowing down to Satan while singing "Sympathy for the Devil" with me cheering him on. Let's get real: I was not and am not good apart from Christ. I am not holier than thou. The only difference between me and you is that I have realized my own depravity and turned away from it. Take a good hard look at the human race and what it is capable of: the burning, torture, and all other types of persecution for those who do not believe the same way. I abhor this behavior. I abhor myself sometimes, and all that I, in my fallen state, am capable of. I do not judge you for what you are, but I do encourage you to seek after something higher. Isn't that what it is all about, anyway? Looking for something more in this life than the precious little it has to offer?
Barbara
So you threw away your vibrator?
Hi all,
yes, I am with ptoner on this one.
Barbara is under no obligation to shares inside information with us but kindly did so.
'Every man and every woman is a star' and each must find their own way the best they can. No need for abuse.
J
Thank you, ptoner and JNSmith, for your kind words. I am not dismayed by H's words, nor will I let him silence me. I have many more reminiscences I could share, some just about everyday life on the commune, some more telling. Examples:
Mike's mum, Edna, being the Yorkshire woman that she was, taught me how to make Yorkshire pudding. As an American, I had never tasted it, and now I make it for my children. Edna never seemed aware of Mike's claims to be the son of Aleister Crowley, and I think she would have been shocked by it. She was a very simple woman, not at all the kind of woman one would think Crowley would have picked.
We celebrated Christmas at the commune, complete with Christmas goose, decorated tree, presents, etc. Mike wouldn't let us cut down a real tree, so we had to make due with a twiggy branch. I was a bit surprised that Mike would let us celebrate Christmas, as it is ostensibly a Christian holiday with a Christian name, but I also know that many of the practices are from the Roman holiday of Saturnalia, which was celebrated in December. I have a picture of Mike smoking a Christmas cigar.
Mike spent a lot of time watching telly, which I thought odd for someone who was supposed to be a teacher of something higher and more profound than everyday life. I saw no teaching going on at all, unless it went on in Mike's bedroom, and only with the men. Mike's books in no way depicted life as it was on the commune.
Concerning me leaving the commune, I have much I could tell. As all my wages went to support the commune, I had no means to get back home, which required an expensive flight to Los Angeles. But God provided a way for me to get home, down to the last penny. When I gave notice to my employer, he gave me a month's wages in addition to what I had earned. He told me that he didn't know why, he just thought I would need the money. (He had no idea what went on at the commune.)
Mike was very angry when I told him that I was leaving. He threatened to "curse" my sexuality forever if I left. (Didn't work.) I wondered whatever happened to the free will that Aleister Crowley held dear. Many other remarkable things happened during the time after me leaving, but I will not go into them now. Suffice to say, that by them I was convinced that God had answered my prayer and He became very real to me.
Thank you for allowing me to share my experiences. And again, thank you to ptoner and JNSmith for your kindness. May God bless you all.
Moderator's Note
@Horemakhet wrote:
So you threw away your vibrator?
An unbelievably crass and offensive comment.
I have received several emails and Private Messages drawing my attention to your post as an especially juvenile example of how rude some activity on this site has become (along with Jamie Barter's 'cult' = 'cunt' pun) and I'm very disappointed by behaviour like this. Perhaps it's not surprising that you chose to post this when you knew that I was abroad...
You are on notice, now, that further failures to comply with the Guidelines will result in immediate termination of your account. If the software we're currently using for Forums on this site supported it, I would impose pre-moderation without delay.
Pathetic.
@Barbara Green: I regret that you have been subjected to such an abusive/insulting post.
Lashtal,
Thank you for your apology. I choose not to be offended or hold a grudge toward the one who posted the comment, nor toward your website as a result. In fact, I have great respect toward you and the website you run, not only for allowing me to post an experience that you may not agree with, but also for moderating that website as to content. I now see that we can have a respectful discussion, no matter our differences. My experience with Mike Walker was life-altering because it brought me to great despair. I now know that I have a forum to share that experience with others, as well as the answers that I found as a result. Thank you again.
Barbara