To Mega Therion's son Aleister Ataturk Crowley and his young Cornish mistress
Topic starter
09/06/2020 12:29 am
Aleister MacAlpine: Ataturk Crowley: Randall Gair: Count Charles Edward D'Arquires (1937-2002)
In 1934, in the course of the celebrated 'Laughing Torso' libel case, the 58 year old occultist Aleister Crowley was introduced to a 19 year old from Newlyn, Cornwall, named Patricia Doherty. Three years later, on May 2nd 1937 in Newcastle, she gave birth to the boy Crowley considered his son and heir, Randall Gair - nicknamed Aleister Ataturk. Ataturk was educated in Scotland and in the early sixties, visited Kenneth Anger in the US, but West Cornwall was his family home and he lived there for several years.
Writer Des Hannigan describes his own memories.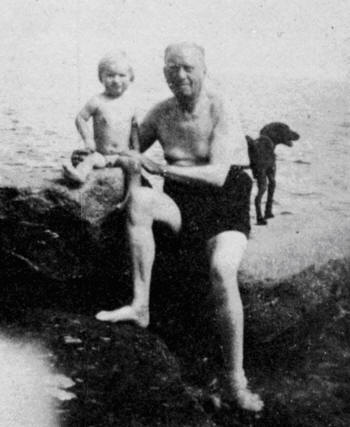 "I knew Aleister 'Ataturk' for a short period during the late 1960s, in West Cornwall.
Aleister was the son of Aleister Crowley and Deidre Patricia MacLellan (nee Doherty). He was associated with the Crowley 'legend' throughout an often difficult life, yet he was a distinctive personality in his own right. He was certainly 'eccentric', but I do not think Aleister displayed any of the more perverse characteristics of his notorious father. I was glad to have known him, albeit briefly.
When I first met Aleister he was living with his mother, Deidre, at the house called Wheal Betsy at the top of Chywoone Hill above the fishing village of Newlyn. Aleister lived in a caravan in the grounds. Wheal Betsy(picture below) was an Arts & Craft house that was built in 1910 by Deidre's grandfather, the Pre-Raphaelite painter, Thomas Cooper Gotch."
http://www.artcornwall.org/features/Aleister_Crowley_Ataturk_McAlpine.htm
My mother is Cornish and she raised me in a council house during the 1970s on the Gwavas Estate, Chywoone Hill, Newlyn, Kernow (Kernewek Celtic language=Cornwall in English). She now lives in nearby Penzance where I used to live also, and I've been resident in Sussex, England since the late 1990s. Aleister Ataturk Crowley lived in a caravan in grounds on the Chywoone Hill, Newlyn near us. He was quite a colourful character to say the least...
Glad to be back on the forum after a long hiatus, and battling banks, health issues and relationship break down (single and free again A-HA!) but am now in a much better position after being refunded £1,000s from my bank, after a lovely young girl from the Financial Ombudsman forced them to reimburse all my lost money from a scam, with extra compensation on top as a good will gesture. My eBay account is now restored to 100% positive feedback again, so will put some AC related items on there again in the near future.
This topic was modified 1 year ago by
Falcon
This story has been posted before, several years ago i think.
Topic starter
09/06/2020 1:58 am
Topic starter
29/06/2020 4:20 am
Cornwall Live - Legendary occultist Aleister Crowley's son from Cornwall who tried to take over the government
Aleister Ataturk was chauffeur driven from west Cornwall to try to take over the country
https://www.cornwalllive.com/news/cornwall-news/legendary-occultist-aleister-crowleys-son-4243093