Kenneth Anger talks about Aleister Crowley
Here's a link for a talk by Kenneth Anger on Aleister Crowley, film projects and the Jonas Brothers, oh yes.
Interesting to note Jean Paul Getty was Anger's patron. He was quite the hipster back in the 6os..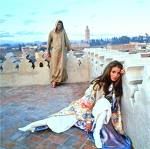 I might be alone in not being interested in Kenneth Anger's opinion at all.
What has he done?
Wikipedia says, "he has produced almost forty works since 1937".
The longest of those, Inauguration of the Pleasure Dome, is 38 minutes. The shortest, Death, is 42 seconds. I am arranging a viewing of that one.
A quick adding up of the films listed in his wikipedia entry shows that he has directed about 430 minutes of viewable celluloid in his 60-year career. That is a quite incredible average of 8 minutes a year. Most of the 'films' are in any case just a few minutes of very poor quality video with little or no dialogue; they don't even deserve to be called films. It's like when you give a 10-year-old a video recorder and ask him to film what he likes.
Only 9 of the films are of 20 minutes or more.
He should take a long hard look at real independent filmmakers like Orson Welles and David Lynch.
I cannot understand why people even give him the time of day!
I hope this doesn't sound like when Quagmire attacked Brian.
I quite liked the Hollywood Babylon books!
"Alan_OBrien" wrote:
...Most of the 'films' are in any case just a few minutes of very poor quality video...
...I quite liked the Hollywood Babylon books!
wow...
Did I just log on to Bizzaro-Lashtal?
I won't even try to argue the context or merit of Anger as a filmmaker. You can find that elsewhere on this very site and in a variety of survey level Introduction to Film History books.
I will say you don't have to like his work to be aware of its importance in the development of the visual language of film which we take for granted today. Thats not even touching on his importance to the history of Gay and Lesbian art and artists!
I admit when I first saw the Mystic Fire video collections of his work at 16 I didn't know what to think if it all. I love it more and more with each viewing now.
to each his own.
"einDoppelganger" wrote:
I will say you don't have to like his work to be aware of its importance in the development of the visual language of film which we take for granted today.
You are right. I do find most of his eight-hour oeuvre to be pretentious hooey. But in that eight hour totalité of his life's work there are a few good moments. I particularly liked seeing the advert for Bass beer in Lucifer Rising.
I have not, I admit, watched the entire 8 hours - I'll Be Watching You (5 mins) is one of many that have eluded me.
One film I quite like is Anger Sees Red (4 mins).
As with many things, quantity is not always an indication of quality.
He could perhaps be likened to some writers (the subject of this forum for example) in that there is a lot more to found than might be seen on first viewing but perhaps (like William Burroughs) you need to read betwen the lines or in Angers case squint a little.
As EinDoppelganger said, Angers influence extends over a vast number of filmakers, writers thinkers etc, a similar way perhaps to somebody like Harry Smith- another film-maker.
Even if you hate his films people like Anger (and Smith) are catalysts for others, so his influence might still be present (though unknown) in much you may care for- he is one sharp cookie.
REGARDS!
J
Though I doesn't seem to like his films too much, (haven't seen them all, I admit) I think it's certainly true the man influenced people and certainly is to be likened with other persons of (some) Importance, also I think his influence might be pretty much present in more things than you care for, and he's a very friendly man, that influence may count as well!
Collected Poems: 1909-1962 by T.S. Eliot (London and Boston: faber and Faber, 1963) is 238 pages long, which also includes the Contents and poems' titles, and blank pages, etc. Divided between 53 years of the poet's career, this yields about 4 pages of poetry per year. Clearly, people are deluded in thinking Eliot was a great and important poet.
Excuse me, might be total ignorant what T.S.Elliot has to do with Kenneth Anger, though T.S.Elliot might be connected with interesting writers like William James and the French author of great importance Proust, maybe that provide a link with Aleister Crowley but Kenneth Anger, I don't know.
I believe Iskandar is cutting the quantity criticism off at the knees there.
Dear alysa 😀 there is no connection with Elliot. I think the point made was that Anger's work was significant not because there is lots of it (there isn't, as chris correctly notes), but because of what it is ... to some, anyway.
Nice talk - thanks to the o.p.
xciii
N.
"Iskandar" wrote:
Collected Poems: 1909-1962 by T.S. Eliot (London and Boston: faber and Faber, 1963)
Why not compare Kenneth Anger to other filmmakers, rather than to a poet? I do not see the relevance of comparing Anger to a poet. It would be slightly more relevant to compare a director to a mountaineer.
But why not compare the volume and quality of Kenneth Anger to that of a very similar director like Alejandro Jodorowsky? He has, in his meantime, brought out rather a handy tarot deck.
Can anyone list Kenneth Anger's writings on magick?
By the way, another film I quite like by Kenneth Anger is "Don't Smoke That Cigarette!".
I really like the film and I am amazed that some malcontent has posted the following review at IMDB:
<<avant garde pioneer steals film, 7 April 2006
Author: Metor2 from United States
Anger has simply taken a videotape produced in the 1990s called SMOKE THAT CIGARETTE, added "Don't" and his name to it, and portrayed it as his own. He has shown it at film festivals as an original work, sold video copies, and now it appears in his flameproofs.
This is a far cry from the "ready-made" approach of, say, Joseph Cornell's "Rose Hobart," in which he took a section of EAST OF BORNEO (1931), printed it through a blue filter, and added insipid calypso records to the soundtrack.
His "Enfant Terrible" moniker truly applies here, because it takes a terrible child to sully a worldwide reputation for visual brilliance in films by appropriating another's work. ">>
We should all gang up and try to get his brilliancy into the IMDB top 250.
Come on everybody!
Doo wot u wil!
Hi Alan,
The comparison to TS Eliot is an example of Socratic Irony - he is pointing out the fault in your method of breaking down Anger's output into a study of his quantity as a method to judge his quality. It isn't intended to compare the methods or medium of two different artists.
Read some materials on Anger. The Equinox III 10 article is a good one. It makes the very clear point that Anger's films themselves are his "writings on Magick." Anger's films are rituals themselves.
Incidentally, Jodorowsky has only made 9 films since 1957... Does that mean he is a lesser filmmaker?
In any case you have your opinion on his work and thats fine. All art isn't for everyone. I do hope that it can be clarified why he warrants the merit he receives.
Incidentally, you do have the dubious distinction of liking both "Hollywood Babylon" AND "Dont Smoke that Cigarette!" I have to say those are two uncommon choices 🙂
Cheers
Scott
Hi all,
whilst it might be presumptuous to put similar words into Angers mouth, this quote from another person influenced by Crowley (but not renowned for his extensive writings on him) might still be apposite:
Jimmy Page from Guitar World January 2008:
(GW) There was always a certain amount of speculation about your occult studies. It may have been subtle, but you weren't really hiding it.
(Page) I was living it. That's all there is to it. It was my life - that fusion of magick and music.
(GW) Your use of symbols was very advanced. The sigil [symbols of occult powers] on Led Zeppelin IV and the embroidery on your stage clothes from that time period are good examples on how you left your mark on popular culture. It's something that major corporations are aggressively pursuing these days: using symbols as a from of branding.
(Page) You mean talismanic magick? Yes, I knew what I was doing. There's no point in saying much about it, because the more you discuss it, the more eccentric you appear to be. But the fact is - as far as I was concerned - it was working, so I used it. But it's really no different than people who wear ribbons around their wrists: it's a talismanic approach to something. Well let me amend that: it's not exactly the same thing, but it is in the same realm. I'll leave this subject by saying the four musical elements of Led Zeppelin making a fifth is magick into itself. That's the alchemical process.
Ref: http://www.zimbio.com/Aleister+Crowley/articles/11/Jimmy+Page+Aleister+Crowley+deciphering+mage
REGARDS!
J
A truly apposite post, and I think it important to make the point that Anger's focus was/is indeed magickal if not necessarily expressed through formal ritual (though I am no great fan of his work myself)..
Incidentally J.Page's comment about the four in Led Zeppelin making the fifth compels me to mention Killing Joke, who do not seem to have been mentioned in the thread on references to A.C. in music.
At least in their earlier years they produced some mighty Thelemic clatter.