Pull up a seat and have a drink.
In observance of the Sun sitting high on his throne, I spent the solstice contemplating the good book. In my studio I have a special little place set aside for various experiments and reading. After a couple hours I pulled the curtains and went about my business, leaving the book open on the stand. Couple days later went out to the barn and was surprised to find a ray of sunlight had found its way across the pages of the book in the darkness. Was even more delighted to find it squarely across my favorite passage, so I grabbed camera / tripod and made this shot: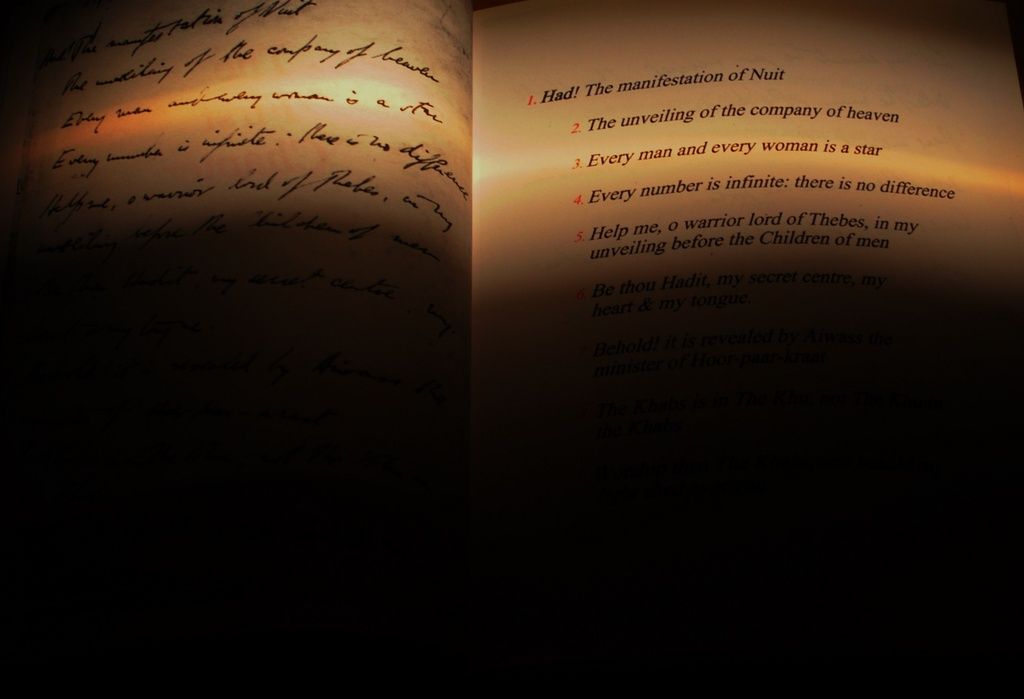 Anxious to see it on screen I pulled camera and uploaded. Thrilling! So I went back to the book and found the light had moved giving me this shot:
I recognize that there are countless perspectives and points of view. One of which would say that this is a mere coincidence, a random ray of sunlight caused by a meaningless lay of the curtains and the apparent movement of sun across the sky. To another this would be an orgasmic flowering, a bursting forth of illuminated insight. A divine daydream. Ever thankful I am of the later.
A lovely post, like a breath of fresh air after so much tendentious nonsense here this spring into summer.
I hope your garden is doing well this year, and that the art-making goes well.
[Edited to note that this is post 418 that i have made in however many years i have been here, which surely Means Something.]
Thank you ignant666.
Still scratching up the rich, dark earth for my food.
Haven't touched a paint brush in quite awhile now. Thankfully though, change is always in the air?
My reply to your post #418 was not well thought out and inaccurate ignant666. I have indeed smeared a little paint lately and it has slipped my mind. Have to admit at this point to succumbing to f***book. A certain group there graciously accepted me amongst them. They are art oriented and suggest lunar timed projects. The painting I had done some time ago and recognized it as unfinished. I may have shared it here at LAShTAL, not sure? The background was reddish then and contained a blue sphere. Anyway, it struck me like a thunderbolt when the assignment was suggested and I smeared on the last bit of paint completing it.
Since you so thoughtfully asked, the least I can do is accommodate. You may find something useful in it?
                                                                                          Death Posture with sigil of all Desire
Thank you for posting. Nice work as always, Spare-ing "No Man" as it were. I must frame the very nice print you sent me some years back.
I never did send you those hollyhock seeds; I've moved since then, but kept some seeds. I have a lot of hollyhocks coming up from the seed so far. Still at the "salvaging some old lady's garden from decades of neglect" phase, no food production yet underway, since I know you will wonder. The best sun exposure is all weeds growing in a foot of sand dumped there to level the ground under the former owner's above-ground pool; I'll probably do some tomatoes and peppers in containers while i work on soil rehab.
I wish you a productive summer in the garden, the studio should it be your will, and in other aspects of your work.
No worries. Sometimes even the most fertile, well prepared soil fails to bear fruit. Countless falling stars will burn out before falling upon the fertile plane. Even what we call the endless universe is not. Best wishes to you as well.